Cybersecurity with Exclusive Benefits for Members of the AAO.

Black Talon Security specializes in Dental Cybersecurity. We identify the "unlocked doors and windows" on your network that enable hackers to breach your network, steal your valuable patient records and compromise your reputation. We provide cybersecurity services that are above and beyond what your IT company offers. And best yet, we work with your current IT company, we do not replace them.
AAO member practices can take advantage of discounted rates (see below) for Black Talon's Advanced Security Bundle which includes: an operational security risk assessment, real-time vulnerability monitoring, cybersecurity awareness training, penetration testing and simulated phishing campaigns. You also get your own credentialed security engineer.
To request additional information, please complete the form and one of our cybersecurity experts will be in contact with you shortly. You may also reach us at 800-683-3797. Read and watch some testimonials from your colleagues.
*Black Talon Security offers our solutions world-wide.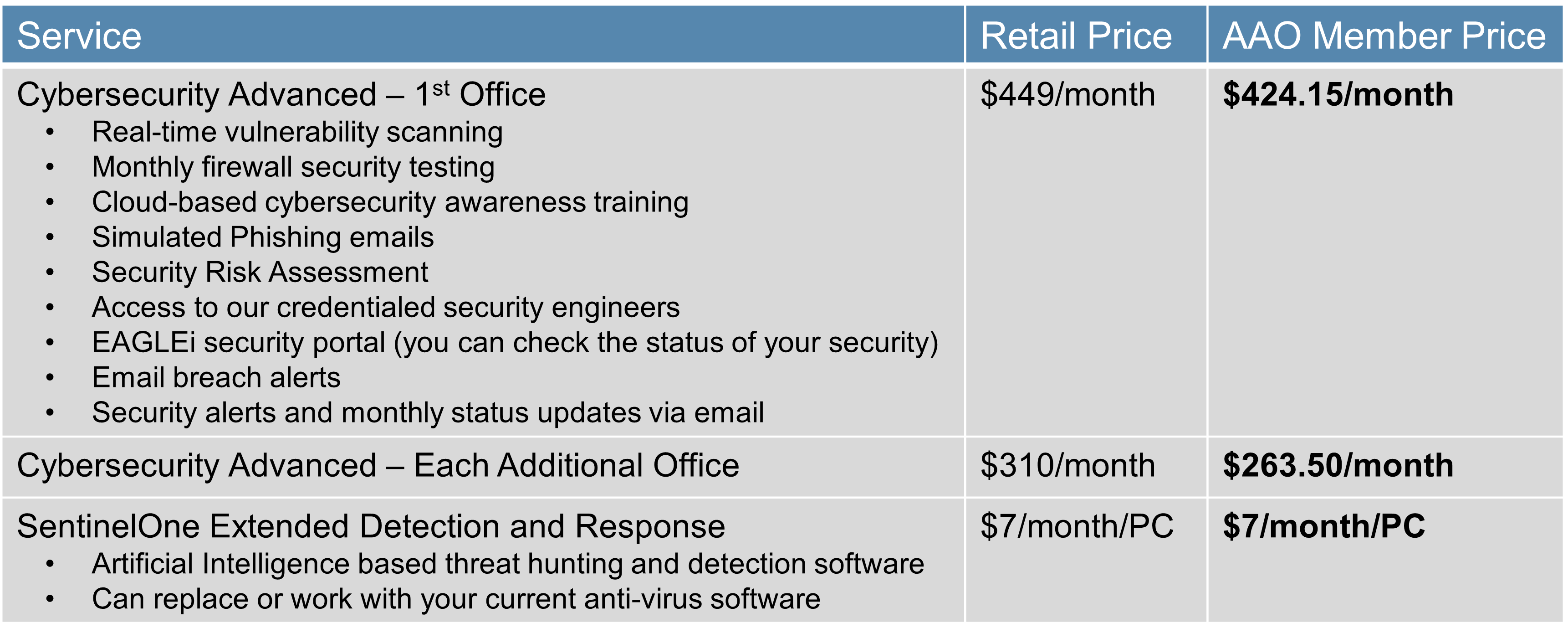 *Black Talon training programs are designed to empower employees to make informed decisions when it comes to interacting with websites, email and phone calls. The employee learns a mindset and methodology that helps in dissecting emails and differentiating safe emails from threat emails, in order to avoid falling victim to scams that lead to security breaches. Black Talon also provides a set of cybersecurity SOPs (standard operating procedures).
If you are a DSO, please reach out to us to discuss large group pricing and the specific needs of your organization.
Our office started working with Black Talon unfortunately out of necessity. After COVID, when we started communicating with our patients via text at a much higher volume than ever before, we had an incident one day where all of the patients who had texted in for their COVID pre-screening questions, started receiving dozens if not hundreds of spam text messages from our office number. In a panic, we reached out to Black Talon to help us find an immediate resolution. They very quickly performed a full analysis of our IT systems with a focus on the security of our patient information and helped us resolve areas of weakness. They followed up with training for our team that taught us so much about the cybercrime world. Following their analysis, and reinforcement of our systems, plus the training in both general understanding and safe practices, our team feels much more confident and secure in our day-to-day operations. At the time (early COVID), it was hard to think of a way that we could even "do business" without the ability to text our patients and keep their information secure.

In our digitally-driven world risking the security of your database is simply not an option, both from the perspective of the ethical responsibility we have to our patients, but also the reality that without our database we simply cannot do business. A cyber attack is an attack on your livelihood in more ways than one. Gary Salman is an expert in the field and possesses special knowledge of how our industry operates in the cyber world. He and his team are a pleasure to work with and incredibly responsive. There are a lot of things we throw our money at, but very few of them are as valuable as the peace of mind that a company like Black Talon Security can provide.

Kyle Fagala, DDS, MDS
As orthodontists, we are responsible for protecting our patient data. I have been very happy with the services Black Talon Security provides to navigate me and my office through this mine field. Using their services is not a luxury, but a necessity in safeguarding my practice data from a crippling attack.

Adam Weiss, DMD / Orthodontist
Black Talon has been a remarkably professional organization to work with. They identified and corrected our IT security vulnerabilities and then actually came into the office for a presentation to our team about how to keep us safe. I learned so much from their presentation about ransomware and malware and was thankful they are on my side. If you run a business with any form of data and internet, you have to consider bringing them in to test your system and company's vulnerabilities.

Glenn D. Krieger, DDS,MS,FAGD
The AAO endorses the Black Talon cybersecurity program (the "Program"). The AAO does not certify, guarantee or warrant the products, services, or offerings provided by Black Talon, its platform or its employees, agents, subcontractors, or vendor. The AAO will not be liable for any indirect, special, incidental, or consequential loss or damage of any kind, including lost profits (whether or not the parties have been advised of such loss or damage) arising in any way in connection with the Program.